Talking about the Future
The Future Tense, New Year Resolutions, and a Bulletproof Icebreaker
1 Plans and Predictions
I have been working on ways to teach the future tense with images for a while (off and on). Finally, I've made these pages quite reasonable. Certain images such as calendars, graphs and weather predictions are useful for teaching a few varieties of the future tenses. Action pictures of people in the midst of an ongoing situation and thinking or dreaming pictures are also pretty good.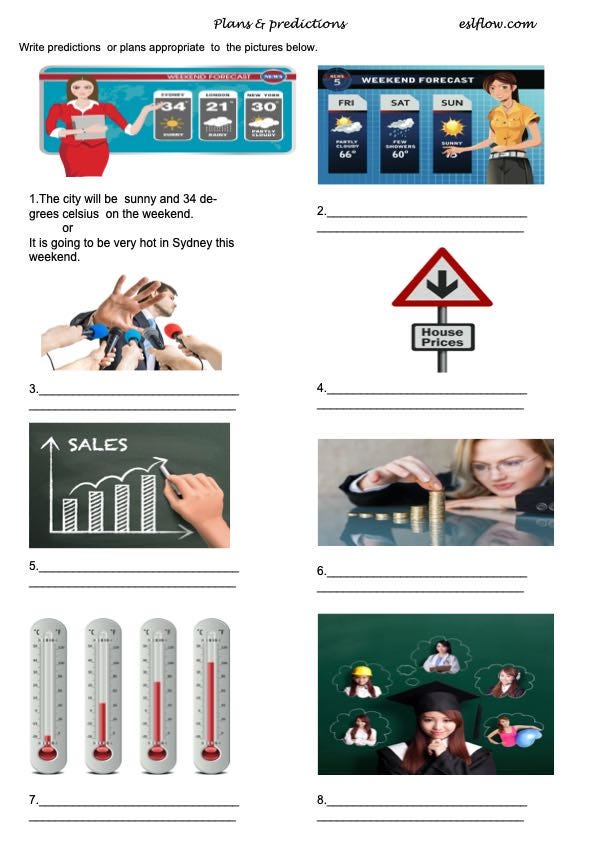 2 Plans, Predictions and Schedules
This is similar to the exercise above except that it also includes schedules. I realized while doing this that we usually use the present simple tense to talk about our schedules for the future and we do it a lot! So I tried to use scheduled events on calendars to represent this aspect of the future tenses.
3 New Year Resolutions (elementary)
New Year Resolutions is pretty cool personal topic for this time of year. It's interesting, relevant, and great for talking about the future.
4 Resolutions for the Future (more advanced)
This is another resolutions exercise, but requiring more advanced grammar.
For a few other resolutions exercises go to my web page 4 New Resolutions
5 A Bulletproof Icebreaker- Colors
I had never used this icebreaker until recently. And wow! It was so easy and successful. You could almost use this icebreaker anytime but perhaps it could be good for introducing adjectives or for topics like fashion and advertising. The only problem with icebreakers like these is …you only get to use them once with a class!